Send Inquiry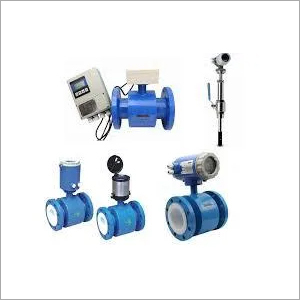 Product Description
Electromagnetic Flow Meter(

Full Bore / Insertion Type)
FEATURES
Full bore type

Suitable for conductive

liquids

Universal Power Supply 90 to 260V

AC,

Ma

Local Indication through

LCD

Easy maintenance as no moving

parts

Simple & cost effective

construction

Outstanding

accuracy

Inbuilt Relay status output (High / Low /

Batch

Integral

grounding
SRV`s EMF100 are micro-controller based full bore type electromagnetic flow
meters specially used for various industrial applications. These flow meters accurately measure the flow rate of conductive liquids & slurries in closed pipes. Due to its simple & rigid design, the flow meter is an obstruction-less & maintenance-free instrument in place of conventional mechanical flow measuring devices. The use of 'pulsed DC' technology offers highest ability & better measuring accuracy in the form of electrical signal 4-20 mA DC linearly proportional to volumetric flow. The instrument is based on Faraday's law electromagnetic induction. A magnetic field is generated by the instrument in the flow tube. The fluid flowing though this magnetic field generates a voltage that is proportional to the flow velocity. Corresponding electrical output is provided with respect to measuring flow range.
SECIFICATION
Media : Liquids (Conductive)
Conductivity : > 5 s/cm
Viscosity : 200 cp max
Excitation : Pulsed DC
Line Size : 15 NB to 1000 NB
Type of Output : 4 to 20mA DC or Modbus RS 485
Display : Backlit 16 2 LCD
6 digits for Flow Rate & 8 digit for Totalizer Flow Engineering Unit :
User Programmable (m3/Hr by default)
Calibration Range : As per requirement (Factory calibrated for std. 2m/s velocity)
Accuracy :+/- 0.5% of M.V. (for 20 to 100% flow)
Linearity : +/- 0.5% of M.V.
Repeatability : +/- 0.2% of M.V.
Temperature Coefficient : +/- 0.05% per C
Enter Buying Requirement Details